Contactless to the personal tattoo
A nationally renowned tattoo studio in Münzbach, Hesse, practices a convincing hygiene concept with contactless door systems from OPK. Only the tattoo artist's needle should touch the skin - door handles and knobs are taboo.
Münzberg is a tranquil town between Gießen and Bad Nauheim in northern Hesse. Among (few) attractions include the castle that gave the town its name and which still towers over it in ruins. still towers over it. And - perhaps even better known than the castle ruins - the fall-out tattoo studio by tattoo artist Chris Block.
Block posts his work on Instagram and has around 26,000 followers there. That is almost eighteen times as many people as Münzenberg has inhabitants. Tattoo enthusiasts travel from all over Germany to the Hessian province to get tattooed by Block and his team. Since the works of art cannot be created in one day, many of them spend the night in the town during this time.
Block is uncompromising in his art. He runs a pure custom studio. This means that every customer's motif or idea, the size of the tattoo, the area of the skin and the skin type - just to name a few. and skin type - to name just a few points. There are also no classical opening hours. This guarantees undisturbed and concentrated work on each individual tattoo.
individual tattoo. In addition, Block only uses colours that are strictly controlled and comply with the German tattooing agent regulations. All colours are also vegan. Block also approached the equipment of his studio with the same lack of compromise. "I wanted I wanted a hygiene concept like in an upscale doctor's office," he says. tattoo artist might not directly expect. "The door to the tattoo room should practically open by itself. no handle, no doorknob should have to be touched by the customer or his team," Block describes his ideas. or his team must touch it," Block describes his ideas. "At that time, I didn't even know that there really was a convincing really a convincing solution for my idea. Block's tattoo studio used an opk CleanSwitch in combination with the opk electromagnetic with the opk E-Space electromagnetic sliding door operator.
With this combination, OPK presents a solution for opening space-saving sliding doors completely contactless and thus hygienically. open. The opk CleanSwitch is a switch that can be installed next to the door like a light switch. flushmounted box next to the door. Unlike a light switch, however, its circuit does not close circuit does not close when it is pressed. The opk CleanSwitch reacts to simple hand movements. The detection of the hand movement is signalled by a colour change on its surface. on its surface. In areas where special attention must be paid to hygiene - such as doctors' surgeries or tattoo parlours - the opk CleanSwitch is the ideal solution.
Such as doctors' surgeries or tattoo studios, the non-contact opening is a decisive measure hygiene. opk CleanSwitch thus fulfils high demands on hygiene, convenience, and design.
The opk CleanSwitch is used to control the opk E-Space electromagnetic sliding door drive. The opk E Space is installed as a single or synchronous system and runs in a slim aluminium profile. aluminium profile. The E-Space moves door leaves weighing up to 100 kg. Passage widths from 750 mm (single leaf) to 3400 mm (double-leaf) can be closed with it in combination with the appropriate with the corresponding sliding doors.
The E-Space is equipped with ball bearing rollers that guarantee smooth, quiet, and practically maintenance-free running of wood, glass and framed doors. In the tattoo studio in Münzbach, the decision was made to use the pocket version of the opk E-Space. With this electromagnetically driven sliding doors running in the wall can be easily realised. way. If the tradesman opts for the pocket version of the opk E-Space, he receives everything needed to install a sliding door that runs in the wall - with the exception, of course, of the door itself and the runners. except for the door itself and the running track. To create a friendly ambience and emphasise the the importance of hygiene, Chris Block opted for a white sliding door and a colour-matched frame.
By using the touch-free opk CleanSwitch technology in combination with an electromagnetically driven sliding door that runs in the wall, tattoo artist Chris Block convincingly demonstrates that he lives up to his claim of offering the same standard of hygiene as a doctor's office. as a doctor's surgery - is a reality.
Mr Block, how did you come up with the contactless, electromagnetic sliding door?
Block: "We already had sliding doors before because they are simply practical. But of course, not electric ones. We only found them when it came to renovating the studio."
Hygiene and sliding doors, do they belong together for you?
Block: "Definitely! It saves a lot of time not having to change your gloves every time you just because you leave the room to ask a colleague something."
So the sliding door really makes your work easier?
Block: "If you always, just because you want to go through a door, have to put everything out of your hand, or have to change gloves, that's annoying! So clearly yes. Sliding doors help us us to be able to concentrate fully on our work!"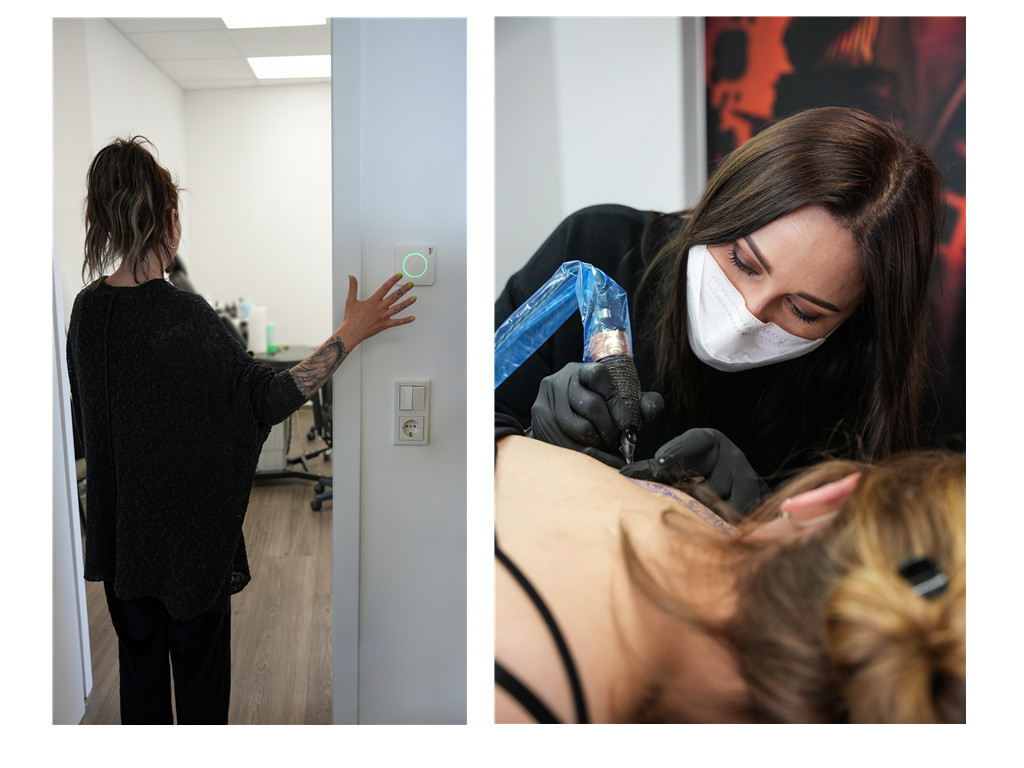 Related News
Detail improvements make the difference
Oct. 22, 2022 / OPK Europe GmbH, the specialist for sliding door solutions in the construction and furniture segment, now offers its opk E-Space electromagnetic sliding door operator in combination with a number of innovative new features.
OPK convinces in direct dialog
November 2, 2022 / OPK Europe GmbH, the specialist for sliding door solutions in the construction and furniture segment, was represented at one national and three international trade fairs in September and October.